US Manufacturer of Quality Medical Equipment
Ultrasound Tables
Imaging and Pain Management Tables
General Exam, Procedure Tables and Chairs
Physical Therapy Tables
Stools, Bolsters, & Accessories

Oakworks offers a wide range of medical tables from C-arm Imaging, Ultrasound, Exam and Physical Therapy tables. We collaborate with leaders in the medical specialties we serve to create cutting edge designs that balance the needs of both patients and practitioners.
Oakworks Medical tables and chairs are FDA listed, ensuring the highest level of safety for your patients. They are built in our ISO13485 Certified plant to guarantee consistently high-quality products. Our confidence in our products is reflected in our industry leading 3 year parts, 2 year labor warranty.
Ultrasound Table Market Share
Oakworks is leading the market with ergonomically
advanced products.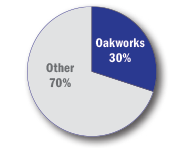 Market data is from Market Transparency Research 2018 Report
Pain Management Market Share
Oakworks occupies the dominant position in
its industry by developing innovative new products.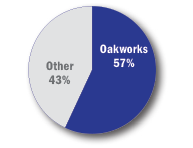 Market data is from Market Transparency Research 2018 Report
We care about your healthcare delivery costs so we offer feature-rich, reliable products at a competitive price with an industry leading warranty and service solution.

National Sales Team
Oakworks has over 140 factory
representatives that provide sales support
to distribution partners and end-users.
Sustainability
Oakworks has maintained a strong commitment
to environmental wellness. We have a proactive
plan that addresses sustainability to ensure we
are doing our part to preserve the health of our
environment, our customers and the wellbeing of our employees.
Field Service Solution
We have a rapid response team and networked
field service provider that will quickly address your
service needs. Just a phone call away, our customer
service team will arrange the fix/repair solution for you.
Customer Focused Warranty
Oakworks provides world-class products and
services that consistently meet or exceed our
customers' expectations. We offer a leading
warranty on our medical products

Ergonomically Designed by Experts
Oakworks designs our Ultrasound tables to be
comfortable for the patient as well as ergonomically
designed for the sonographer. Our tables will meet
or exceed the needs and preferences of physicians,
clinicians and hospitals.
Sound Ergonomics
All Oakworks Ultrasound Tables are designed
with the inputs of Sound Ergonomics, leaders
in the study and application of ergonomics to
the ultrasound profession. Sound Ergonomics
provides work site assessments and the development
of ergonomic programs for diagnostic imaging professionals.

Stable Design Supports Excellent Imaging
Oakworks Imaging Tables have a large height range
helping to create safe patient transfers while
allowing doctors to stand comfortably.

Our robust lifting column is very rigid, ensuring rock solid support
for safer imaging and procedures. Getting exactly the movements
you need is easy with a wide range of motions and top designs.
15 Models, 5 Motions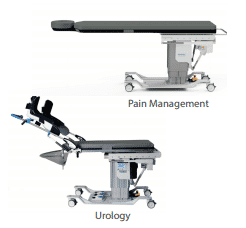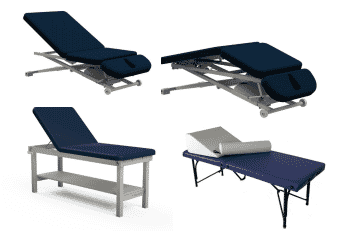 Reliable Treatment Tables
Oakworks Physical Therapy tables are designed
to create the perfect work surface and hold up to
the most challenging environments. Oakworks offers
high quality treatment tables, exam tables, mat tables,
and equipment that are essential to your business.
Features
Ergonomic tops, varying height ranges
Accessories
Bolsters, stools, stabilization straps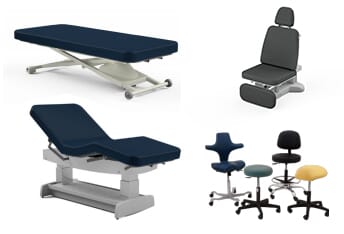 Comfortable Designs with
Excellent Ergonomics
Oakworks Exam Tables offer a wide range
of options to suit and budget and goal.
From a cost effective hi-lo design to a table
perfect in a high end Medi-Spa environment
where comfort and aesthetics are a must, you
will find your solution. Our unique four
section tops offer comfortable support at
a level that typical three sections tops can't.
Options
Casters, head and arm rests
Accessories
Prone Pillow, bolsters, stools